How to Combine Multiple Outlook Data Files? – Complete Guide
Outlook is the most popular email client in today's world to store emails, contacts, calendars, etc. in PST files. Although Outlook is one of the most popular email clients, MS Outlook also has some drawbacks. For example, previous versions of Outlook were limited by certain size limitations. As the amount of data stored in Outlook seems to be approaching the size limit, Outlook starts to crash and sometimes freezes automatically. Fortunately, in later versions of Outlook like Outlook 2019, 2016, 2013 and later. problem solved. But users who have old PST files need to find a solution to their problem when the data storage limit is exceeded. In this case, users need to combine Outlook files. This article will discuss easy-to-use methods to automatically and manually combine Multiple Outlook data files 2019, 2016, 2013, 2010, 2007 and solve this problem once and for all.
Reasons to Combine PST Files into One
Users want to import their old version of PST file into a single larger PST file that can be used with the new version of Outlook. To do this, they need to combine multiple PST files into one.
The user wants to migrate from Outlook to another email client and save all the data in a single PST file.

Avoid data loss and corruption issues.
Avoid using multiple Outlook inboxes or Sent Items folders and combine them into a single folder.
If you need to combine or join multiple PST files from your old account.
When making a backup, merging PST files is the best option.
If you combine personal, social, or work-related accounts, the best way to manage these files is to combine them.
Consolidation is the ideal solution if you plan to migrate other services, such as Exchange.
If you get files from a team, family members, organization, or any other personal group, combining them into a PST is the easiest way to have everything in one place.
Alternative Solution to Combine Multiple Outlook Data Files
If you want to transfer multiple Outlook PST files to one PST file. Then you can do it through manual methods or reliable automated tools. In this post, we will explain both methods in detail.
An easy, fast and efficient way to combine multiple PST files with professional Free PST Merge Software. This highly advanced software allows you to easily combine PST files into one PST file with a user-friendly interface. You can use it to combine all the data elements like emails, contacts, notes, calendars, tasks and journals without changing the data of the original PST file. In addition, it automatically removes the items removed from the process. The tool supports password protected Outlook PST files and offers several options to save new and existing PST files.  You need to do these five quick and simple steps listed below:
Combine Multiple Outlook Data Files in a Few Easy Steps
Download PST Merge Tool and Install it on your System
Click the Add File or Add Folder option to upload the PST file
Select Two Options: Merge or join PST files
Choose the desired folder and choose a merge into an existing PST, new PST or Outlook profile
Click the Next button and analyze the composition process in real time.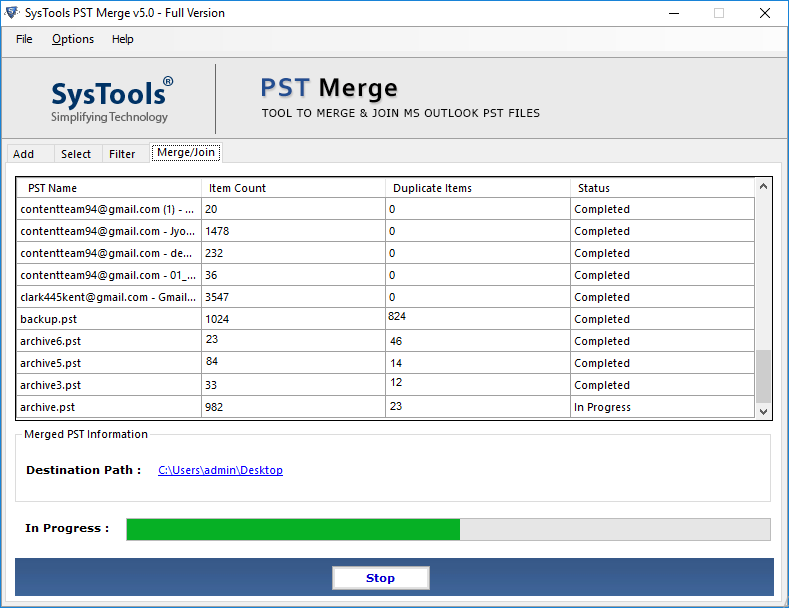 Manual Approach to Combine PST Data Files to a Single PST
Using the manual method, users can create a new PST file and combine all the existing PST files into one and import them into the newly created PST file. To do tasks, follow steps below:
1: Steps to Create Blank PST Data File in MS Outlook
To create a blank PST in Outlook 2016, 2013, 2010, 2007, here are the steps:
Open Outlook and click New Item
Choose More Items and Hit Outlook Data File
After that, choose a location to save the blank PST. Name the file and click OK.
2: Steps to Combine PST Files into New Created Blank PST
First, Open your Outlook Email Client and Go to File
Select Import, which will open the import and export wizard. Here, choose to import from another program or file. Click Next
Select Outlook Data File and click
Click the Browse tab to find the file you want to import
Then select Don't import duplicates and click Next
Choose the folder in which you want to import PST file
Select includes subfolders and imports items to the same folder in the box
Finally, click Finish
This method will import the PST file to a folder of your choice. Also, you can import other PST files by repeating the same steps for each PST file. After importing these files, your data can be easily combined into a single PST file.
Final Words
Many people look for a solution that can help them combine multiple Outlook data files. This article briefly explains the same. Manual and professional solutions are mentioned here. Users can see that merging multiple PST files into one is not that difficult, but the task takes some time to process. If you are confident to follow each step carefully, you can try the manual solution, but if you are not familiar with Outlook and its terms, you should opt for the software method to avoid all the trouble.